Mobile Hair Styling for Weddings & Special Events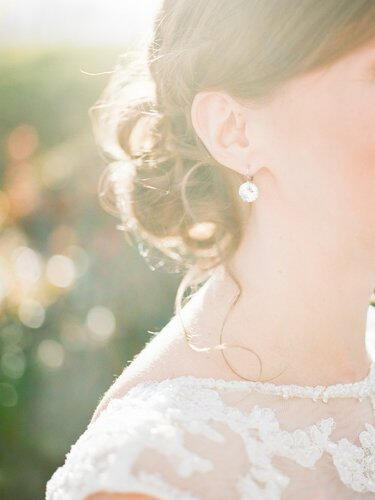 Hi, I'm Allene!
A certified hair designer working in Kitchener-Waterloo and Cambridge, Ontario, specializing in wedding and special event hair design. I offer a mobile service, meaning that wherever you are on your special day, I will be there to help you look your best, from the comfort of your home or venue!As an animal lover and dog mom, I am proud to use only cruelty-free hair products!Thanks for visiting, and I look forward to working with you.-Allene
Services & Pricing
All packages include travel to your chosen location in the Kitchener, Waterloo & Cambridge area.
*A travel fee may apply for other locations outside of these areas. Inquire for more details.
Bridal Party
Bridesmaids & Guests $90
Short Styles $60
(Above chin length)
Flower Girl $30
(Age 6 & under)
Junior Bridesmaid $45
(Age 7 - 16)
Other
Grad/Prom $80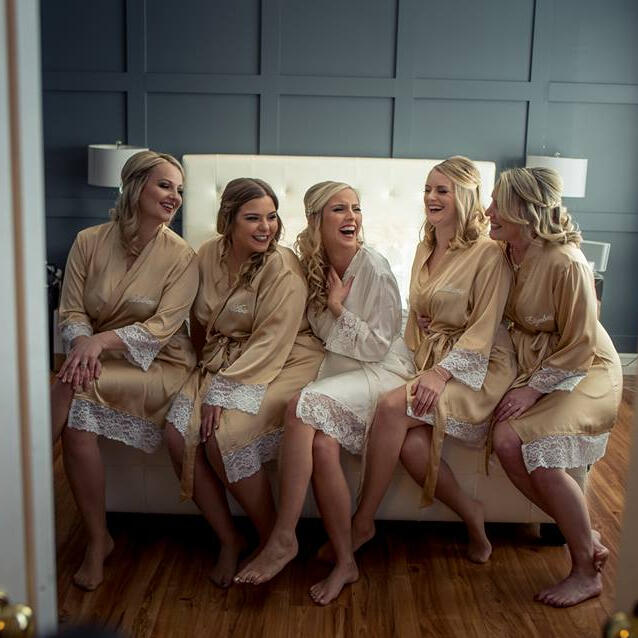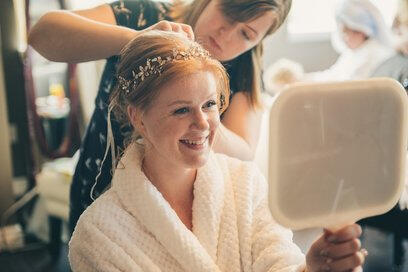 Hi, I'm Allene!
I have always been a hair enthusiast - the only thing that could get me out of bed early in the morning when I was in high school was the prospect of trying something new with my hair! I finally decided that I wanted this to be more than a hobby so I became certified by Glow Academy with an Advanced Certificate in Hair Design and have been working in the wedding industry ever since.I really love working with hair and I truly believe that it is a form of self-expression. My goal is to help you to express who you are and make you feel beautiful for all the important events of your life.In my other life, I am a professional violinist. I hold a Master of Music degree from the University of Toronto and am a member of the first violin section of the Kitchener-Waterloo Symphony, and frequently perform as a freelance musician with various ensembles around the area.I look forward to working with you!-Allene
Frequently Asked Questions
How far in advance should I book?
I start booking a year in advance, so the sooner the better!
Do you require a deposit?
Yes. I require a 50% deposit as well as a signed contract in order to hold your wedding date.
What's your travel fee?
Travel is included in the Kitchener-Waterloo or Cambridge areas. If your location is outside of these areas simply email me and I'd be happy to provide a custom quote.
Can you style less than 3 people?
Yes. My minimum fee is $250, which does not include a hair trial. If you've got a specific event or styling needs simply send me an email and we can discuss the details.
Can you style more than 9 people?
No. Timing wise it's not possible for me to style more than 9 people for an event.
What products do you use?
As an animal lover and dog mom, I am proud to use only cruelty-free hair products.
What's the process like?
Here's what to expect during the process of booking me for your wedding...
Step 1: Getting To Know You
We'll discuss the date and time of your wedding, at what time you want to be finished getting ready, how many people are in your bridal party, and where you will be located (because I travel to you!).
Step 2: Brainstorming
You can send me as many photos as you like, if you have a specific idea of what kind of style you'd like, otherwise we can come up with an idea together that works for you. This is where the trial comes in handy: getting together before the wedding ensures that I know exactly what you are looking for, and that I can have the best idea of how to most efficiently create your style. It means less stress for you on your wedding day.
Step 3: The Contract
I'll send you a customized contract to sign and send back along with a 50% deposit. The deposit is calculated based on the total amount of services you've chosen and is due within 5 days in order to secure your wedding date. (If the deposit isn't received within the 5 business days, your date can not be held and it could get booked by another bride.) The balance is due on the wedding date.
Step 4: The Big Day
I travel to your home, venue, or other location and set up my tools and products, and I'm ready to go. Everything I need is detailed in my contract, but basically, I need a table, a chair, an electrical outlet, and access to running water, and I'm good to go! (Natural light and a 90s music mix are a welcome bonus.) I always style the bride around halfway through the bridal party, so that she's neither first nor last for styling. After everyone's finished and happy, it's pack and go and leave you to enjoy your amazing wedding day!
Bonus Step 5: Photos!
I love, LOVE getting photos from my brides after their wedding day! It's really helpful for me to add current work to my portfolio and I adore seeing professional photos of you, and of my work. Feel free to send any shots that you love and don't mind my sharing on social media. I will be super grateful!
Wedding Hair Do's & Don'ts
---
Do
Go crazy on Pinterest & Google!
(The more examples of what you want the better!)
Choose a style that you love!
Bring accessories to your hair trial.
(Veil, fascinator, hair jewelry etc.)
Wash your hair the day before.
(The old "dirty hair holds a style better" thing is a myth!)
Have fun!
(The better prepared you are, the more confident in your choices, the better the experience will be.)
Don't
Bow to pressure from others.
(Pick a hair style you love.)
Pick an unrealistic style.
(When searching for styles use with keywords with your hair length & color.)
Be afraid of hair extensions.
(They're relatively inexpensive and are a fantastic way to add volume & length on your wedding day.)
Leave your veil/hair accessories in their package until your wedding day.
(Did you know some veils need to be sewn on by you?)
Contact Allene
If you'd like to inquire about availability, simply fill out the form below. If you have a question not answered on my FAQ page, you can email me at allenechomynhairdesign@gmail.com
---
Booking Inquiry